As you may have read, I rented a Tesla Model Y twice in a week's time. The first time was for a few days in below zero temps in Minneapolis, MN. The second time was in Hollywood, CA. The overall experience convinced me that a Model Y would be a suitable replacement for Amy's 2014 Nissan Pathfinder and I didn't waste much time making the purchase.
Tesla was the ultimate impulse buy
Kind of. Truth be told, we put down a refundable deposit on a Volvo EX90 as soon as they announced their forthcoming flagship EV SUV in November of 2022. But ... it's not coming anytime soon if their emails are to be believed. That turned my attention back to Tesla. Our Ford Mustang Mach E GT Performance Edition was already part of a pretty serious product recall that made me want to avoid using it for road trips. The recall was "fixed" by a software update that just makes it easier to get to a service center safely in the event of a battery issue, but I digress.
With a number of road-trippable volleyball tournaments in the near future, my reluctance to road trip the Mach E shifted focus to replacing the Pathfinder sooner than later. I had been checking local inventory at Tesla and anyone that might possibly part with a Hyandai Ioniq 5. After driving a used HI5, I thought that car was the one, but it was the renting of the Model Y absolutely sold me on getting a Tesla.
Why? Driving the Model Y a combined 500+ miles in two very different climates showed me it could perform in the cold and be comfortable in the heat. The SuperCharger network, at the time still only available to Tesla drivers, is THE best fast charging option. The Tesla software and UI is the best in any vehicle I've owned or test driven. Lastly, Model Y was incredibly comfortable for my family of 5 on vacation.
So why exactly do I call this an impulse buy? I'm glad you asked.
Returning from a week of travel
Again, I drove a Model Y for an entire week of vacation and pretty much fell in love with the car. We returned from LA late on a Friday and had a pretty busy weekend of family gatherings. I took the following Monday off as a buffer day to get myself ready for the week. Since we were fairly eager to replace the Pathfinder, I checked the local Tesla inventory like I had been doing pretty regularly already. To my shock they had the exact model I wanted ready for pickup that week.
Reserving was almost too easy
There it was, a Tesla Model Y Long Range Dual Motor All-Wheel Drive 7-seater. It was exactly what I was looking for, with one exception; it was white. I had just finished driving two different white Model Ys. I had even told myself that I wouldn't get it in white. It was one of those inner monologue comes out moments where I said it out loud. It would have to be Midnight Silver or Deep Blue Metallic Paint. Not white.
Then my impatience kicked in. I was ready to go all-in on electric vehicles. I was ready to own a Tesla. I reserved the car that day, with minimal hesitation, only days after returning from our trip.
I may have also ordered a Pet Liner for Ace, but seriously, how could I not?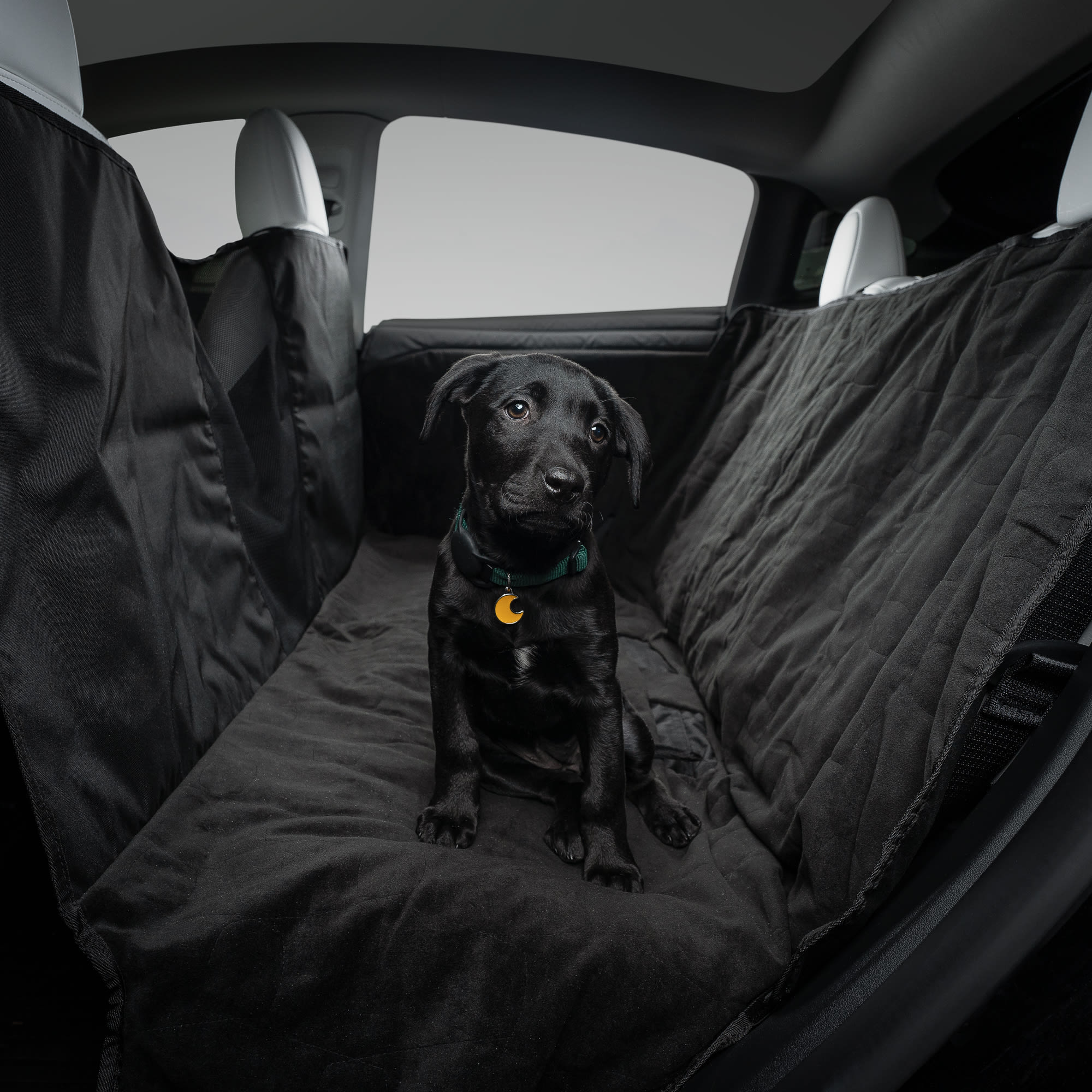 Tesla, take my money
Tesla makes it way too easy to fork over a fairly large sum of money for a major purchase. After reserving our Model Y, I downloaded the Tesla app as instructed and followed the steps outlined there.
Once you've provided the initial registration details, you're asked to provide proof of insurance and payment details. For payments, Tesla uses PLAID to link your preferred payment method to your Tesla account.
Selling Sully
I shopped our Pathfinder (Sully) around trying to find the best possible offer. I had offers from multiple local dealerships, Carvana, CarMax, and Vroom. I started a trade-in request with Tesla to see what they would offer after hearing they tend to offer Kelley Blue Book pricing. I already knew what the KBB valuation of the Pathfinder was, so I was prepared to be uninspired by Tesla's offer.
I wasn't wrong - Tesla's offer was the lowest of the bunch - so we sold our Pathfinder to Carvana for more than $3000 more than the next best offer. I'll share our experience in another post. It's just about the only auto-related CX that I found to be easier than purchasing a Tesla.
Getting ready for Tesla delivery day!
I reserved the Tesla Model Y on a Monday. Our delivery day was scheduled for Friday of the same week. Everything I've detailed up to this point happened over the course of a few days. At this point in time, we're providing proof of payment which is the last step to confirming our delivery. I also received a call from our advisor at the Tesla store to talk through the process and confirm that we didn't want to trade in our Pathfinder.
That Friday morning I completed the final steps in the app and prepared to drive to the Tesla store. Did I mention I didn't sleep the night before because I'm still a child when it comes to my excitement for new tech?
It's delivery day!
Friday arrived and Amy hopped in the Mach E with me to drive to the Chesterfield Tesla store. The process for picking up your new Tesla is the absolute easiest car buying experience you will ever have. There are no sketchy sales tactics and add-ons you didn't ask for that cost hundreds or thousands of dollars extra. There's no salesperson handing you off to a manager handing you off to a finance manager, and no sitting in a stuffy office getting sold on an extended warranty you don't need.
You show up at the store and you find your vehicle in the parking lot. It's not hard because there's a placard with your name on it, right in front of the store.
The Tesla is almost yours
There are a few steps to complete once you find YOUR Tesla. You link the car to the Tesla app to get Phone as Key working and get access to the features the app offers. You set up at least one of your key cards so those are ready to be used in the event you don't have your phone. These look like a credit card, not a big ol' key fob. The last step you have to complete is heading inside to sign the paperwork so your advocate can submit details for registration.
When you first get in your new Tesla, the display will have a series of tutorials up that will show you all you need to know if you're a first-timer. They're also accessible from the service menu if you need to review something later on.
That's it - you own a Tesla
After you've signed the paperwork, you can leave at your leisure. Need to review any of the tutorials? Go for it. If you haven't put your mind at ease checking out the build quality of the car, give it another looksie (hopefully you did this to your satisfaction BEFORE signing the paperwork). When you're ready, hit the road, enjoy that instant torque, and drive safe.
A few things to do, for fun
That's all there is to the purchase of a Tesla. They make it way too easy to leave with a new car. It's the direct to consumer approach that really needs to replace the traditional dealership model, but I digress.
I'll share some fun follow up posts on how we've accessorized our Tesla, but there's at least one last thing you should do before you consider your set up complete. You should give you Tesla a name. I'm terrible at naming things. I crowd-sourced ideas from the kids and none of us came up with anything we were super excited about. So I turned to Google Bard AI to help stimulate the ideation.
Baymax! Why didn't I think of that?
From now on I'll look to AI to help me name things. The entire family loves Big Hero 6. Our Tesla is white like Baymax. Looking at it from the front, it actually looks kind of like Baymax. It's perfect. Baymax it is. I almost got custom plates: Baym4x (Baymax was taken), but I decided not to because those wouldn't transfer to a non-white car very well.
That's my story of how easy it is to buy a Tesla. Stay tuned for more EV talk in future posts. Next up is How to Sell a Car to Carvana - a CX Case Study. If you missed the first in the series, be sure to check out How to Rent a Tesla from Hertz – a CX Case Study.